Introduction
ACEFAST has a whole line of transparent products going at the moment. There are power banks, Crystal (2) Earbuds T8, which we recently checked out, Crystal T6 buds and now the company's transparent charger has made it to the office as well.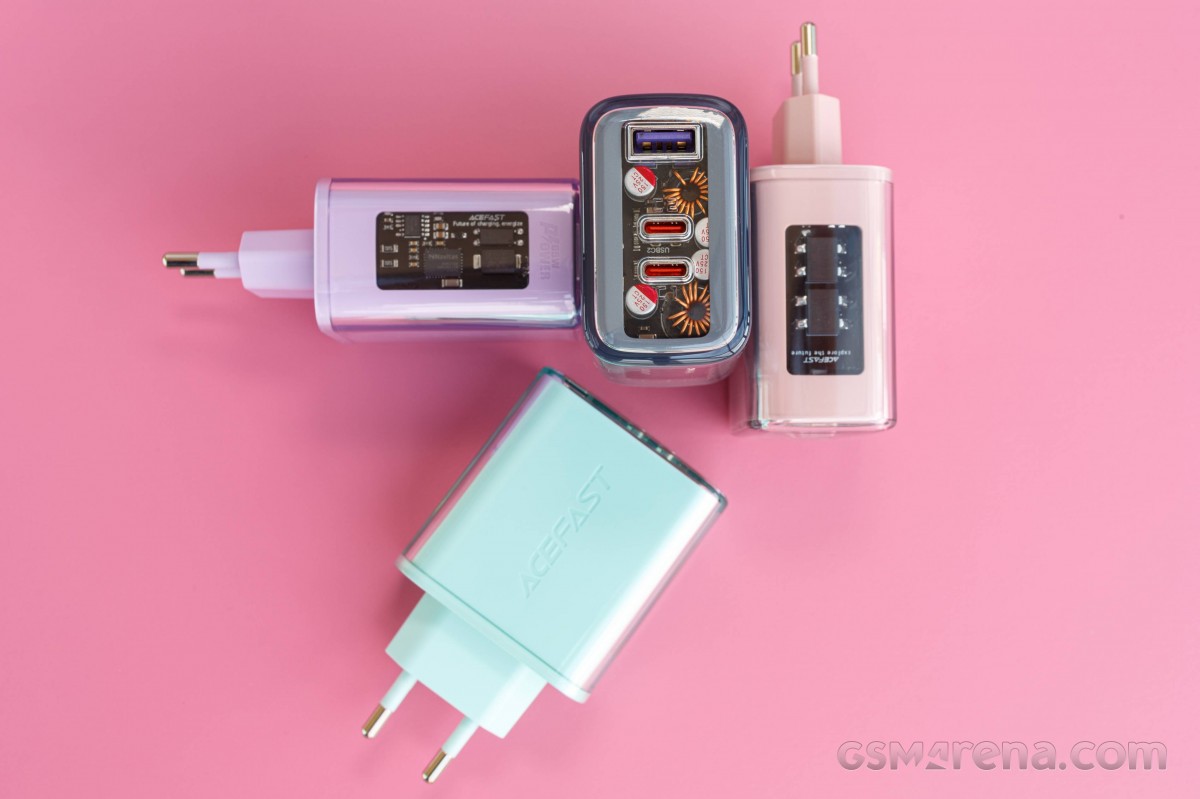 The charger doesn't have a particularly catchy name as most products in the category. It is easy enough to recognize, of course, but you will need to look for the A45 model name for the EU variant, A46 for Chinese and A47 for the US one. This review is based on the A45 EU variant, which we have in all four of its colors – Cherry Blossom, Mica Grey, Mountain Mist and Purple Alfalfa. It doesn't seem to be available on Amazon, but the retail price is around $60.
Let's go through some specs first. The A45 is a compact 65W charger since it is based on GaN3 technology. It offers three ports for excellent versatility.
ACEFAST transparent 65W GaN3 A45/A46/A47 charger specs at a glance:
Body: 96×54.5×33.5mm, 162g; Flame-retardant PC; Purple alfalfa, Mountain mist, Cherry blossom, Mica gray colors.

Input: AC100-240V, 50Hz/60Hz, EU, CN and US plug available.

Output: USB-C: 3.3V-21V@3A (PPS), 5V@3A, 9V@3A, 12V@3A, 15V@3A, [email protected] (65W max) (Support for PPS, PD3.0, PD2.0, QC4+, QC3.0, QC2.0, AFC, FCP, SCP, DCP1.5A, iP 2.4A, SAM 2A); USB-A: 5V@3A, 9V@2A, [email protected], 10V@2A (20W max) (Support for QC3.0, QC2.0, AFC, FCP, SCP, DCP1.5A, iP 2.4A, SAM 2A).

Technology: GaN3 (3rd generation Gallium nitride), AI temperature control 2.0, over current protection, over-voltage protection, overcharge protection, short circuit protection, over power protection, magnetic field protection, electrostatic protection, over temperature protection, lightning protection.
There's nothing much in terms of unboxing to do here. You just get the charger in a very sturdy box, and that's it. No extra accessories.
Design
Clearly, design is a big selling point for the transparent 65W ACEFAST GaN3 chargers. The review units definitely got a lot of looks around the GSMArena office, so ACEFAST might just be on to something with this new transparent trend of its. The chargers aren't fully transparent but rather "strategically" so, with a total of three "viewing" windows – one on the top and two on the narrower sides of the unit. The other two sides are still opaque. The Mica Grey color, in particular, is quite stealthy and blends nicely into any environment.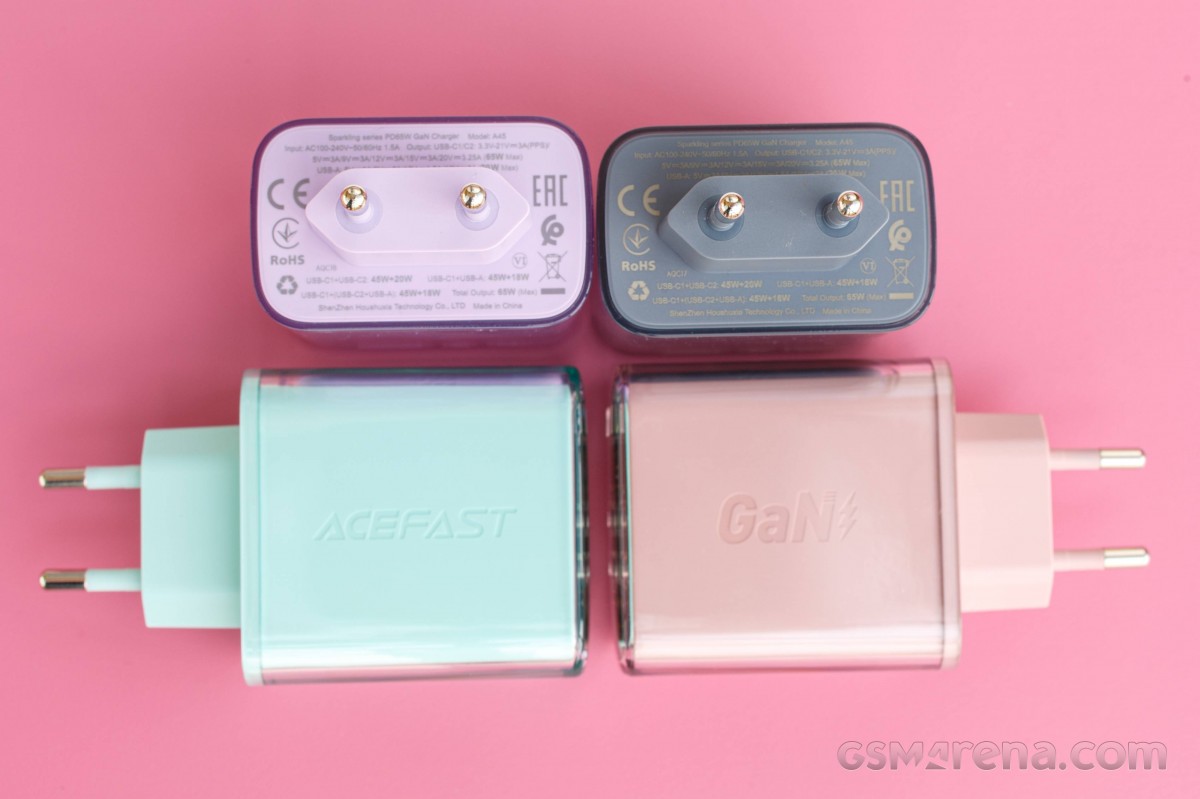 The other three color options, particularly Purple Alfalfa, are more playful and thus great if you like an extra visual pop to your electronics.
Regardless of your choice of color, you should know that the "crystal" transparent surface plastic on the chargers will definitely scratch and scuff in time. It is just inevitable.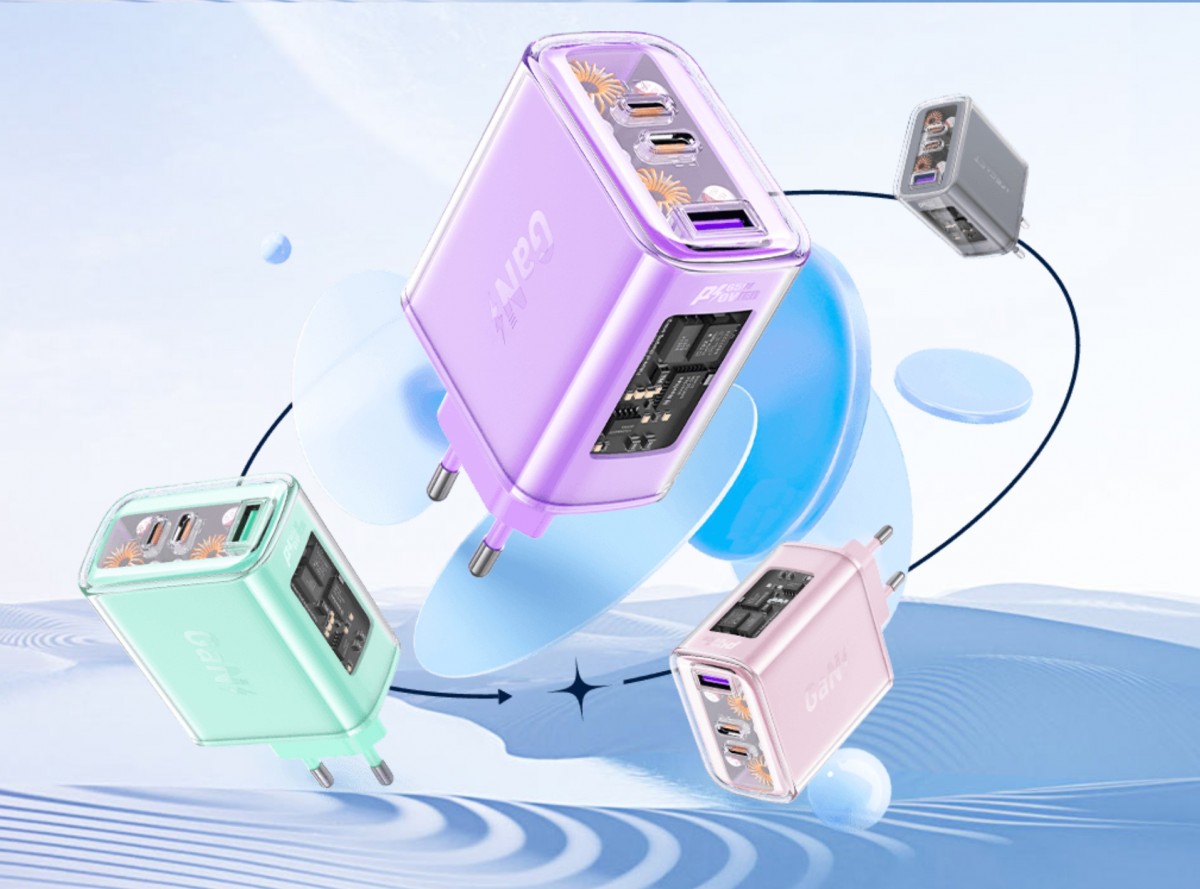 While not the most compact charger out there, this one is still very reasonably-sized for its power output and port count. It measures 96×54.5×33.5mm and weighs in at 162g, which is perfectly pocketable if you ever need to go that way. The use of third-generation Gallium nitride (GaN3) technology is definitely helping in this regard. It also lets the unit be more efficient and remain cooler during use. Even while drawing its maximum 65W of current for a prolonged period of time, the charger never gets uncomfortably hot.
Specs and features overview
The two USB Type-C ports on the charger have identical outputs and protocol support making them essentially interchangeable. You do not see this on every charger out there, and it is appreciated.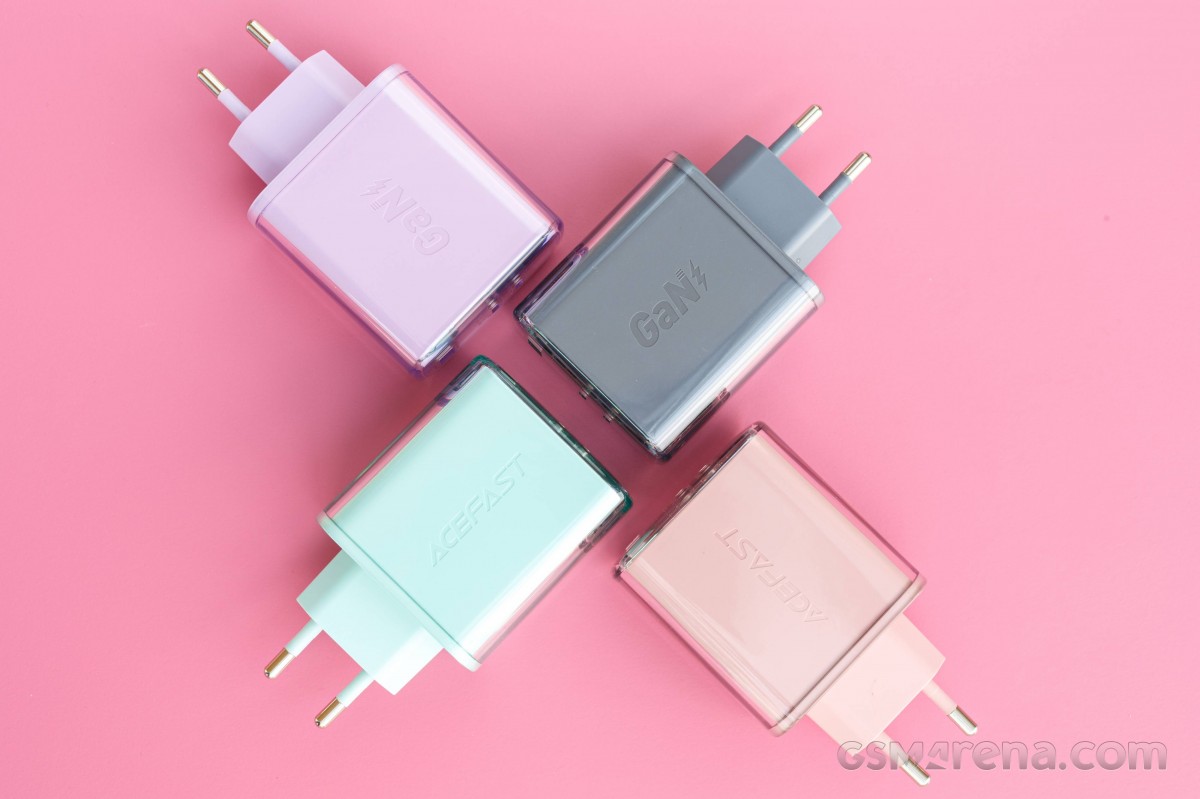 You are most likely to use Power Delivery on a modern device, and the charger supports it at 5V, 9V, 12V, 15V and 20V up to 65W. The last of these voltage ratings is crucial for charging laptops. It also has a wide PPS (Programmable Power Supply) range of 3.3V up to 21V.
Quick Charge is very well supported as well, with 4+, 3.0 (5V, 9V, 12V) and 2.0 versions all on the list. Although not on the list, Quick Charge 5 is also supported through PD, as per our testing. You also get support for more proprietary charging protocols for various phone manufacturers. Samsung's AFC (Adaptive Fast Charging) (5V, 9V, 12V) and the simpler Samsung 2A standard are on the list. Huawei's FCP (Fast Charge Protocol) (5V, 9V, 12V) and SCP (Super Charge Protocol) (3.3 – 12V up to 20W) are also present.
The ACEFAST charger also does the standard USB BC1.2 type DCP (Dedicated Charging Port) charging at its maximum 1.5A. And last but not least, there's Apple's 2.4A charging standard. So there are no major standard missing from the list, which is truly great to see.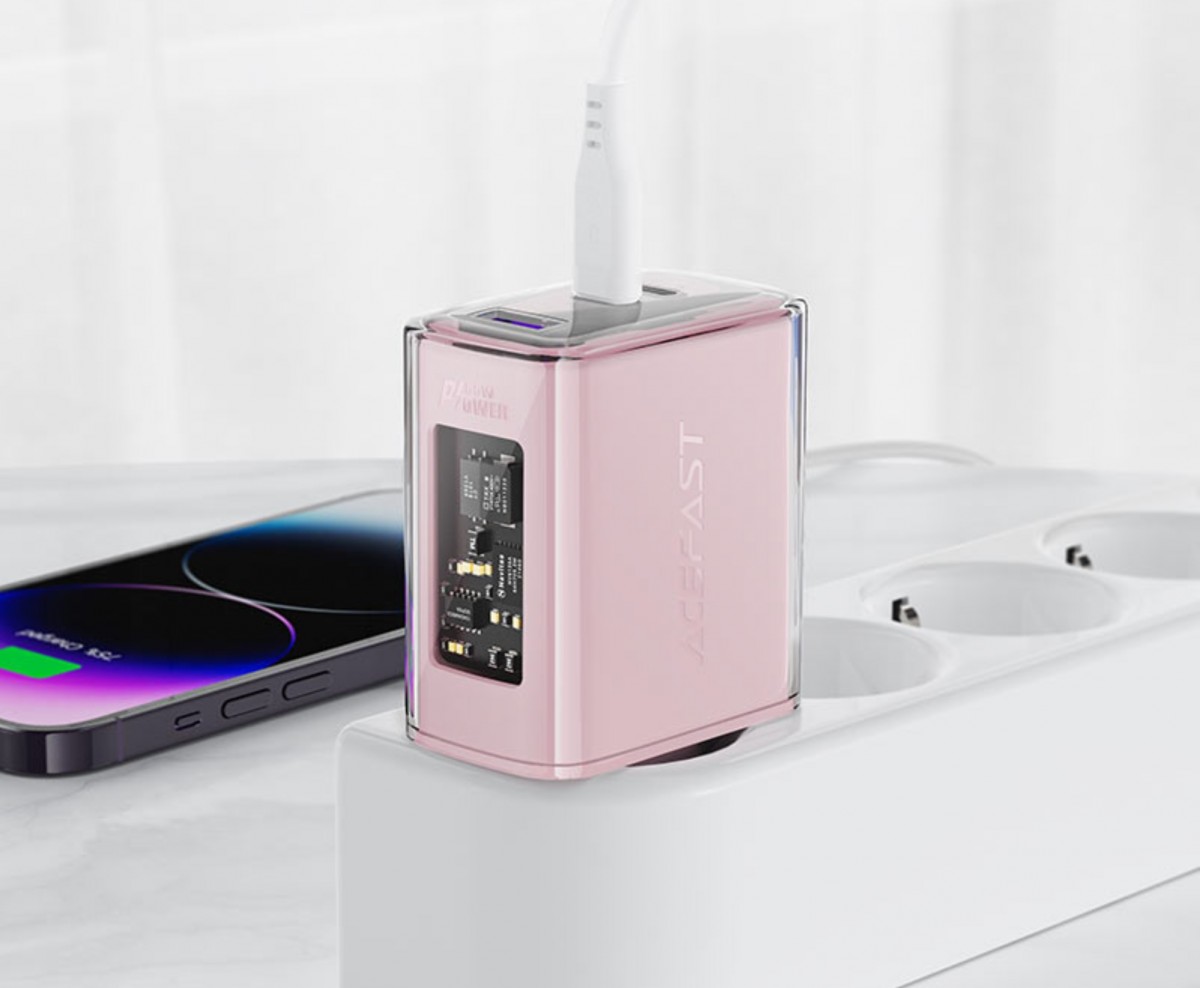 The USB Type-A port on the ACEFAST charger is limited to 20W of output and does not support the same charging standards as the Type-C ports. Obviously there's no Power Delivery. You do still get QC (Quick Charge) 3.0 (5V, 9V, 12V) and 2.0 support. The Same Samsung AFC (Adaptive Fast Charging) (5V, 9V, 12V) and Samsung 2A standards. Also, Huawei's FCP (Fast Charge Protocol) (5V, 9V, 12V) and SCP (Super Charge Protocol) (3.3 – 12V up to 20W) are present. The same goes for standard USB DCP (Dedicated Charging Port) at 1.5A and Apple's 2.4A standard. All in all, a pretty versatile list here as well.
Naturally, you can't get the full power output from all ports on the charger simultaneously. Each of the two Type-C ports can go up to 65W on its own, and the USB Type-A alone can push up to 20W. Using the first Type-C port concurrently with any other ports on the charger drops its output to 45W. The second Type-C port can do 20W alongside the first Type-C, while the Type-A can do 18W alongside the first Type-C. Using the second Type-C and the Type-A together seems to further cap those two ports' output to a max of [email protected]. Here is a chart to illustrate all of this.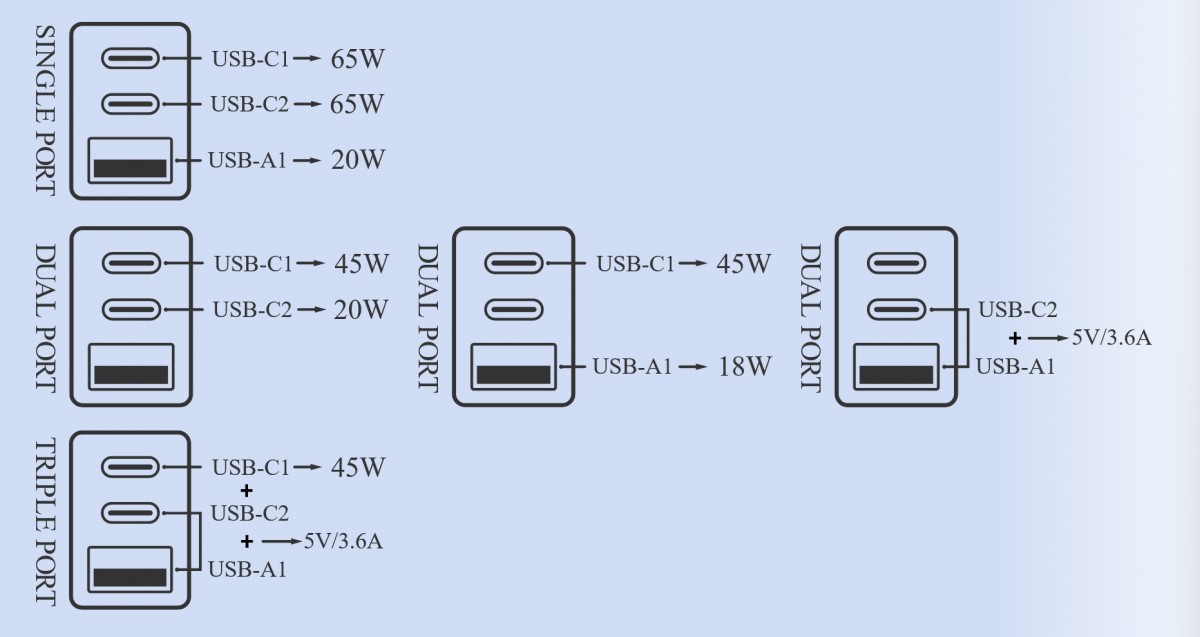 Final thoughts
The ACEFAST transparent 65W GaN3 A45/A46/A47 is a seamless and versatile charger. It offers extensive charging protocol support and is well suited for anything from your phone to your laptop and console, like a Nintendo Switch or Valve Steam Deck.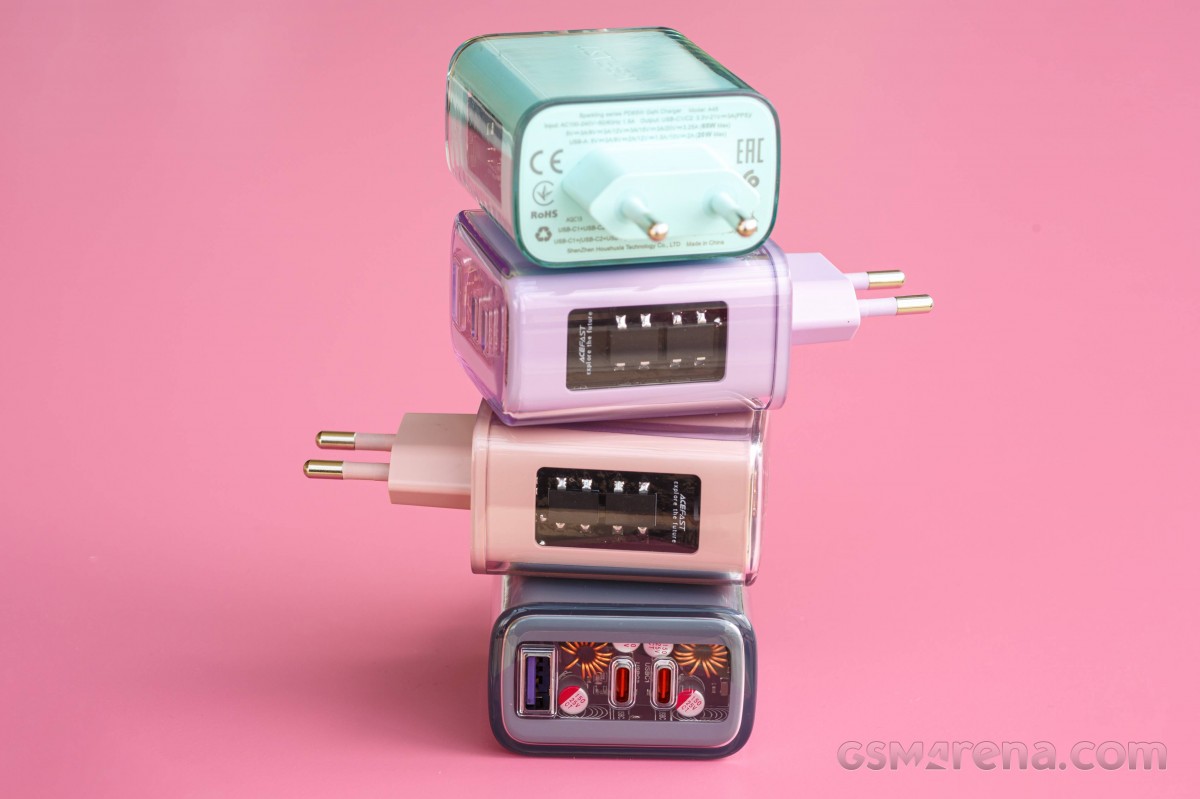 Thanks to GaN3 technology, the charger is also quite compact, efficient and doesn't heat up excessively during use. It comes in a number of fun colors with a transparent look that is kind of the defining feature but is also weirdly non-obtrusive.
The charger doesn't seem to be listed on Amazon quite yet, but as far as we can tell, its expected MSRP is $60. That's not the most competitive price point for a charger of this caliber out there, but it's not too far off from alternative offers from brands like Anker, UGREEN or Baseus either.
If you are after a solid, modern, versatile charger, then the ACEFAST transparent 65W GaN3 A45/A46/A47 should be right up your alley.